My personal family influences in cooking.
My Mom
Sharon is a Omaha Nebraska native who has lived in a slew of different states and a slew of different houses, being married to my dad who was in the Air Force. She has an eye for detail and a great sense of how things will turn out. She crochets, knits. sews , sequins, is a genealogist and cooks great food. She raised three children and one man on a tight food budget for years and has lots of tips and tricks she shares with me. Se adores her grandchildren and enjoys cooking for for special events and family celebrations . She is all an all great women an wonderful mom. I am blessed every day to have her in my corner.
My "other mother"
Another lovely lady near and dear to my heart, is my son's grandmother, my adopted step-mom. Marie was born in the Azores Islands of Portugal and has lived in Fall River Massachusetts and Nevada. She raised two sons and fed them very well! Organized and with a sense for spices and just what a dish needs she knows her cooking. And avid reader who enjoys spending time with her sons and grandchildren (the best Vavo they could as for), she enjoys cooking traditional Portuguese dishes for her family and makes a great trifle desert that can be modified to fit any occasion. She is a spit fire of a lady and loves her family, she is the best ally and friend you could have on your side. She is a wonderful women with a big heart and a lot to share about love and life.
TaTa
Eduardo was the father of four children and a native Arizonian. He was my two oldest children's Tata (grandfather) He loved to cook for his family. He loved a good party and family celebrations. A Carpet layer who enjoyed teaching his children the trade, he also enjoyed urban fishing. He was a character and always ready to help others. He cooked some great food, and I learned how to prefect Mexican style rice and beans from him, as well his famous chilaquilas. He was loved and is missed greatly, and there is not a time that I cook rice that I do not think of him.
Tia Molly
Tia Molly was a native Arizonian and member of the Pasqua Yaqui tribe. She was a warm, kind, and caring women. Always with a encouraging word to lend. She loved cooking for her family and raised 3 fabulous girls. She was creative and fun to be around, and made excellent Mexican food. It is from Tia Molly that I learned the foundations of tamale making. Now 20 years later I always think of her when I make my traditional tamales. She also taught me many other traditional dishes, and my favorites are Sonarian enchiladas and albondigas soup. She is missed by her girls deeply , she left too soon, but left a legacy of knowledge, compassion, and cooking for everyone who encountered her.
My Celebrity Influences
Rachel Ray
Rick Bayless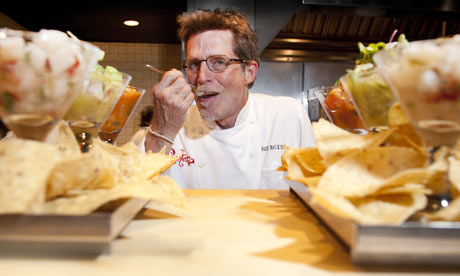 My Celebrity Crush
Gordon Ramsay